"Everything about them seems incredible.
They were very small, not much more than three feet tall, yet do not resemble any modern pygmies.
They walked upright on short legs, but might have had a peculiar gait obviating long-distance running. The single skull that has been found is no bigger than a grapefruit, suggesting a brain less than one-third the size of a human's, yet they made stone tools similar to those produced by other hominids with larger brains. They appeared to live isolated on an island as recently as 17,000 years ago, well after humans had made it to Australia." (
NY Times
)
Three feet is around one meter.
Sketch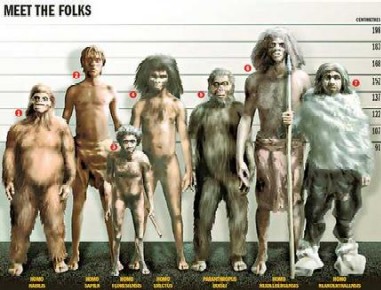 The dude on the third is the Hobbits of Indonesia.