After yesterday's attempted hit on Israel targets in
New Delhi and Tbilisi
, there's another incident involving Iranian today in Bangkok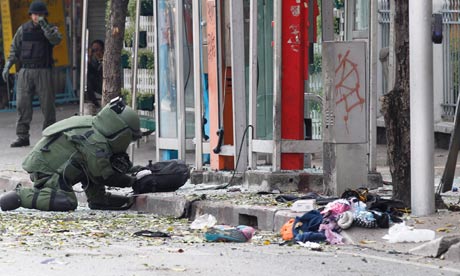 Police in

Thailand

say two explosions have hit a business and residential neighbourhood of Bangkok, but it is unclear how many people have been injured in the blasts.

Thai police told the Associated Press that the two explosions happened on Soi Sukhumvit 71, a street running off a busy multilane road that bisects the capital. (

AP

)
Unlike the bombing in New Delhi and attack in Tbilisi, the attack on Bangkok actually involved an Iranian instead of just an accusation.
This is the dude that blew his own legs off
Bangkok Post has more
.
They have caught the second Iranian who was trying to leave the country via the airport. Big mistake dude, if you want to run from the law, go to the jungle and cross to the neighboring countries and hope that the malaria and snakes don't kill you first.